Sanskar Dream School
Learn Here, Lead Everywhere!
Best Preschool In Aurangabad - Childhood is a cherished time. At Sanskar Dream School, we accept it is our obligation to give conditions and encounters that catch the delights of experience growing up, sustain every kid's singular development and advancement, and make ready for progress in school and life. We are focused on the families related with us.
Who We Are
Our Aim, Mission & Vision. 🎯
We are True 21st Century Schooling! 🤩

OUR MISSION
We strive to create a secure and valued school environment for every child by presenting them with appropriate learning experiences and opportunities to actively engage in the learning process
OUR VISION
Our educational thrust emphasizes the values of integrity, justice, freedom, and love. As such, parents seeking to enroll their children in our school must prioritize these values and be willing to make sacrifices to uphold them.
OUR AIM
Our educational approach aims to go beyond mere academic excellence, providing children with a well-rounded learning experience. We prioritize the development of good character and moral values, alongside knowledge.
How To Let Your Child Study At Sanskar Dream School?
Let your child attend Sanskar Dream School to help your child develop comprehensively in all aspects.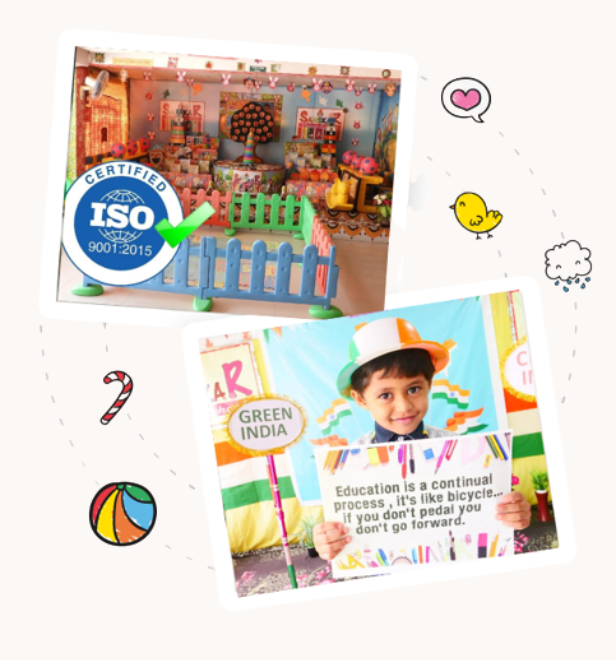 OUR

25 YEARS

OF PROFOUND RESEARCH
Our educational approach prioritizes the overall development of a child's personality, nurturing curiosity, teaching life lessons, and building character. Parents who seek to enroll their children in our school must value these essential elements and be willing to make the necessary sacrifices to uphold them. With our abundant material and human resources, we are equipped to individualize learning in an environment that fosters the development of critical 21st-century skills.
Holistic Educational Approach
We acknowledge that all members of our community including children, families and teachers have rights and all interactions.
Building Well-Rounded Individuals
we provide guidance to children on setting goals and achieving them, molding them into ideal citizens who contribute positively to society
Playing in learning
Our Classes
Our education approach aims to foster children's satisfaction and self-esteem

Exploring Creativity in an Engaging Learning Environment
Sanskar Dream School
Why are we so Special?
Infant classroom offers strategies for building positive relationships, helping children develop self-regulation and responding to challenging behaviors.

Well Researched Curriculum
Creative Teaching Methodology
Safety, Security and Hygiene
Experiment Focused Learning

Providing Your Child with an Optimal Learning Environment
Children learn about their world through the use of their senses. In our Kids Care Program, classroom activities that focus on discovery and exploration will facilitate just that kind of learning.
Acclaimed School with Award-Winning Programs
At Sanskar Dream School, we understand that every child is unique and has different learning needs. We believe that by offering individualized learning opportunities, we can help our students reach their full potential. Our school has a wealth of material and human resources at our disposal, which allows us to provide personalized attention to each student. We employ a variety of teaching methods, including hands-on activities, group projects, and one-on-one instruction, to cater to different learning styles.

In conclusion, our material and human resources enable us to individualize learning and provide a supportive environment that promotes the development of critical genz century skills. At Sanskar Dream School, we are committed to providing the best possible education for our students and helping them to achieve their academic and personal goals.
What do parents say about us
Testimonials
Discover What Parents Are Saying About Us

"My daughter Sakshi is studying in Sanskar dream School from play group. I have seen her progress in stage courage, group discussion and general knowledge. I am very thankful to teachers for giving full attention on my child's growth."
This school is very nice. My child loves it a lot and always says that he doesn't want to change school at all. This shows the care which teachers take at Sanskar Dream School. Teachers pay attention on the growth of every student. Principal sir also gives full attention on the growth of every student."
"Sanskar Dream School is famous school in Shivajinagar. Teachers of this school are very nice and always solve the difficulties of student very nicely. They give timely feedback of study to parents. School organized nice events like Republic Day, Rakshabandhan, Holi, school trip. Teachers support student to take part in events."
"Qualities of Sanskar Dream School are cleanliness , Discipline, good teaching staff. Growth of school is good. Reachers arrange Parents meeting on every weekend and gives report of students growth."
"In Sanskar Dream School our child learn lot of good qualities like discipline, time management, hard working and huminity. Managemnet of this school is very nice and we are very impressed with the staff."
What's Going on in our School?
Our Other Projects
What's Going on in Sanskar
Recent News
We provide a safe and inclusive environment where students can explore their interests and passions while also learning valuable life skills

HOW TO ENROLL YOUR CHILD TO A CLASS?
Interested in good preschool education for your child? Our kindergarten is the right decision!